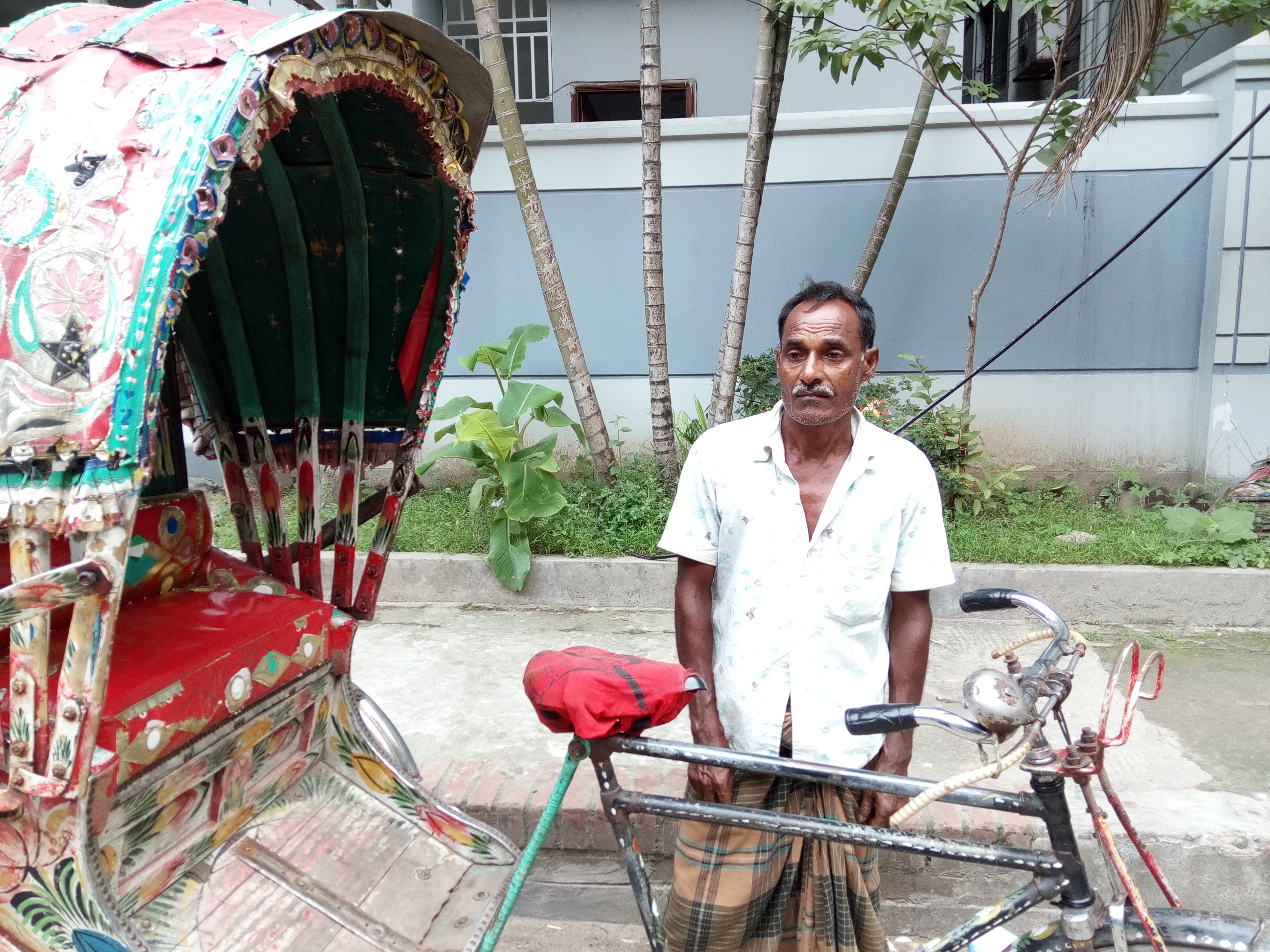 Md. Aynal, a 50 year old man from Polashpur thana, Gybandha district is struggling to survive being a victim of the brutal socio-political system. He has chosen Rickshaw pulling as his occupation now in Dhaka despite his ill health. But he was not a rickshaw-puller nor an extremely poor.
Years ago he used to be a nursery owner living by selling plants. He was doing ok to live with his small family with 1 son and 1 daughter. Eventually he got influenced by social peers to get into cattle business and he invested 1 lac taka there. He was doing ok and made 40,000 taka profit within 3 months. Then the misfortune hit him. One day he went to Dinajpur to buy cattle and while returning from there his cow was confiscated by the Border Guard Bangladesh as they suspected it to have illegally entered from India. Many micro producers like him were victims to this. They were informed that these cattle will be auctioned and they can bid if they want. Later they could not manage enough fund to bid for the auction. Someone else took away their hard earned property infront of their eyes.
Aynal found himself in deep sea as he had borrowed money (20,000) from local people to buy the cow. He then had no option but to take a micro-credit from BRAC. In the meantime he was hospitalized for an illness for six months in Rangpur which cost his family more money. He became an Extremely-Poor eventually. Now he pulls rickshaw to repay his debt to micro-credit. He has returned half of it and still owes 8000 to BRAC. Moreover he has enrolled his son into Palashapur College to compelte his BA exam. This requires him to pay 3000 taka a month. His daughter who reads in class 8 now, also requires some money for school fees. So he has no option but to pull his rickshaw hard no matter how ill he is.
What can JIBIKA do?
JIBIKA wants to repay his debt of taka 8000. After that we will invest 20,000 taka for him to restart a nursary in his village/town. He said he is confident and skilled in this business and also sees enough demand in the market. He thinks he can manage his household living this way by staying with his family. This will also relieve him from labor intensive occupation such as Rickshaw-pulling.
So JIBIKA invites kind people/firms to come up with donations, charities, Zakat, CSR etc. to help this poor man survive and also allow his children to complete study.
Total Amount Needed: Tk. 30,000
UPDATE:
So far we have donated him 12,000 taka. He started the nursery business. However his plants have been devastated by the recent flood and he is back in astray. So we need to fund him for his recovery and re-employment. An estimated amount of another 30,000 is required. To help him rehabilitate please DONATE HERE
We donated further 8,000 to him and he managed the rest. He has left rickshaw pulling and lives in his home now with his family and earns from his nursery.